Sign Solutions recently bid for and were awarded contracts to deliver BSL/English interpreting services for the University Hospitals Bristol Trust (UHBT) and the North Bristol Hospitals Trust (NBHT). They achieved this by reducing interpreters' pay and terms and conditions, for example with cancellation at 24 hours' notice not paid. Sign Solutions did this without discussion with interpreters in the region.
Interpreters in the South West cannot afford to take such a substantial cut, which threatens the sustainability of interpreting in the area. So with reluctance, and in order to sustain their ability to offer a quality interpreting service in the area, they feel they have no choice but to boycott the two Sign Solutions contracts with UHBT and NBHT.
The National Union of British Sign Language Interpreters (NUBSLI) fully supports their action and asks its members in the South West and rest of the UK to support them by not accepting work for these contracts.
One interpreter standing alone can change nothing. But if we truly stand together on this, the contract will fail, and an appropriate contract will have to be put in its place. This will also send a clear message to those agencies who want to win contracts, and keep themselves in business, by paying interpreters less.
NUBSLI recognises that sadly this practice, of tendering for contracts at unsustainable rates, is not new. However to see such a move made by a formerly respected specialist BSL agency from within our community is deeply troubling.
If agencies continue to win contracts by forcing down interpreter fees and offering unrealistic terms and conditions the consequence is that sign language interpreting ceases to become a viable profession, and the interpreting provision that the Deaf community have fought so hard for will disappear.
We are proud of the work we do and loyal to the community we serve. A boycott of bookings under these contracts is a last resort – but many interpreters now feel they have no other option.
Show your support for South West interpreters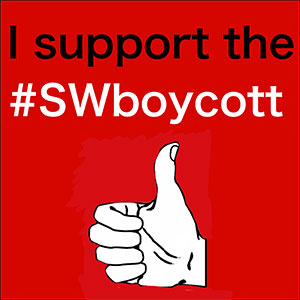 You can show your support to the interpreters by talking about this on Twitter and Facebook. We've set up a page on Twibbon that lets you do this easily. You can still show your support even if you're not an interpreter.